If you are an agency, a brand,
a Print Management
we can assist you with your direct
marketing campaigns :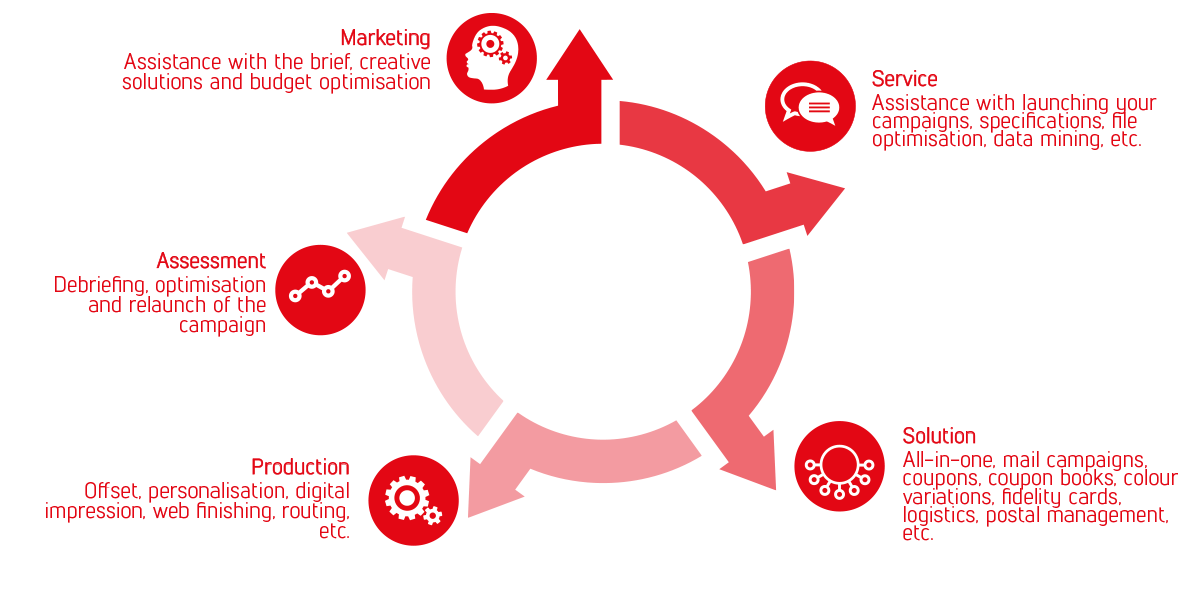 Professionalism and consideration
are the important words at each stage of the production.
All aspects of your campaign are highlighted.
Vprint
has the latest technology available in Europe, in terms of printing, personalisation and web finishing.

Wide-web printing
Offers you more surface to communicate.
3 Web offset presses 960mm and development 630mm
1 Web offset press 960mm and development 610mm
4 colour groups + 1 group for varnish, pantone, neon, etc…
Flexo group : gum, varnish, etc…
Perfo group  and 1 pin-feed group
Complex tailoring
To stand out and optimise your messages.
12 lines of 960mm : Personalisation, UV coating, scratch-off ink, sticker handling, band assembly, up to 7 folds, cutting, perforation, die-cutting, PVC card handling and personalisation, assembly of papers of different types and/or sizes, cross folding, etc…
6 lines of 520mm : personalisation, sticker handling, up to 3 folds, cutting, perforation, cross folding, etc…
2 lines of personalisation on the envelope : personalisation recto/verso on 200mm + labelling

Personalisation
Over 100 printheads for personalisation : black, four-colour
Print width of 4 to 9 inches
Print resolution of 240 to 600×600 dpi
Speed from 90 to 300m/minute
A digital press to answer the segmentation of your files :
web print 480mm, resolution 600 to 1200 dpi, print on all types of offset paper, speed up to 100m/minute.

Industrial process, flexibility, technical capacity
Our machine park offers a wide range of products, great flexibility and an industrial process that will allow you to reduce your delays and benefit from industrial prices.

Routing and mailing
Vprint is a mail handler for the French Post, Adrexo, Bpost, Post NL, TNT, Sand, Deutsch Post
Our adrenaline: your ROI
Every day we guide our clients and help them to use the power of personalised and finished mail campaigns, to generate more traffic
Drive to

Catalogues

Shop

Internet
Nous utilisons des cookies pour vous garantir la meilleure expérience. Si vous continuez à utiliser ce site Web, nous supposerons que vous en êtes satisfait.